(disponible uniquement en anglais pour le moment)
What if, as a child, you were given tools to understand how you, and only you, are responsible for creating a life either filled with light or filled with darkness?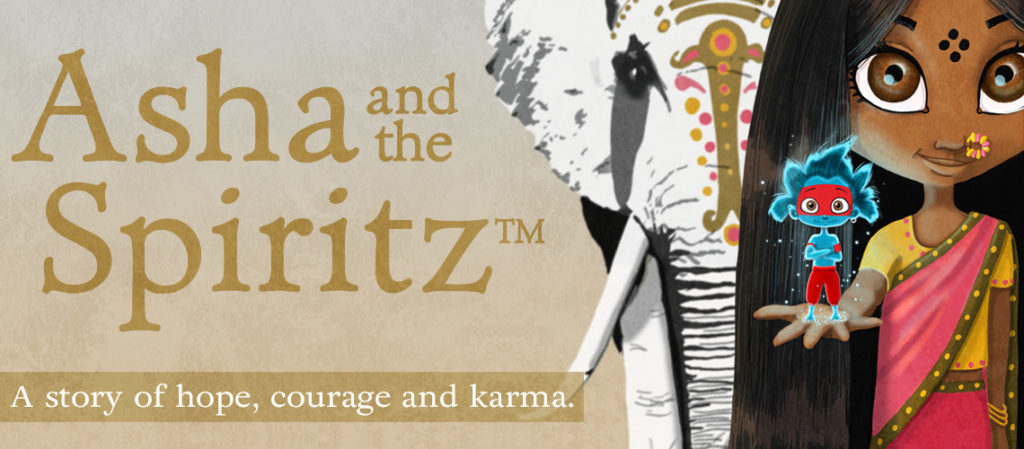 THE STORY
What if someone told you that no matter what, no matter when, no matter where, you are not alone? That whatever you do, think, or say, someone is right there beside you, seeing and hearing it all? What if they could send you help at any time of the day? What if they could put obstacles in your way?
A long time ago, in India, a young girl discovered this incredible truth and her life changed forever.
Shiv Nagar, Himalayas, many hundreds of years ago. Like every little girl her age, Asha has big dreams. Unlike every little girl her age, she lives in an isolated village, banked on all sides by the highest Himalayan mountain peaks.
In this remote village that no one ever leaves and that no one ever comes to, she holds on to her dreams as best she can, despite a father who's exasperated by her daughter's wild imagination, despite the teasing of other children in the village and, above all, despite Nirriti, an old crone who claims to speak to the gods and who's been reminding her of all the dangers prowling outside the village's borders since before Asha can even remember.
Thankfully, Asha has her mother, Sneha, to listen to her, as well as the memories of her late beloved grandma, who encouraged her to always and only listen to her heart.
One day, when Sneha falls critically ill, Asha fears that not only will she lose her mother, but also end up all alone in the world, with no one left to listen to her, to guide her or to believe in her dreams. That's when she starts having very strange visions…
A young girl's journey of discovery through India, to unveil the mysterious powers that regulate the mind and the heart. An illustrated novel for young and old alike, Asha and the Spiritz is a quest navigating through faith and doubt, luck and destiny, reincarnation and other infinite possibilities. A fantastic tale of hope, courage and karma.

THE BOOK TRAILER
WHY I WROTE ASHA AND THE SPIRITZ
"Ever since I stumble upon her blog, I was anxiouslly awaiting for Cheyan to come up with a book, mostly for her illustrations. But what a pleasant surprise when she came up with this wonderful story. Well-written and engaging read, as well as beautifully illustrated, Cheyan explains the very basic principle of human cohexistence: that all things that happen to you you bring onto yourself, both good and bad. This book is a reflection of the exceptional human being the author is, with an incredible vision on life, a compassionate heart, and a genuine concern for the upbringing of the next generation of humans. A must read for everybody, regardless of their age!"
"My 6 year old daughter (who has a voracious appetite for books) and I read this book together. We absolutely LOVED it — and found it harder and harder to put it down as the book progressed. The writing is incredible, the pictures are breathtakingly beautiful (I only wish there were more of them), and the story was pure magic. There were SOOO many valuable lessons in this story. While my daughter is too young to read the book by herself (there are a lot of words that she didn't know), she loved reading the book with me every night. We found that we took a lot of the ideas and concepts from the book (e.g. creating good and bad spirits based on our thoughts) and talked about how they applied to our lives. I really can't say enough about this book. I think it is a great story for children and teenagers but equally fantastic for adults."
Amazon customer
★★★★★ Amazing book. I can't say enough positive things about it.
"This book is AMAZING!!! Both my tween (11) daughter and I have read it and we enjoyed it immensely. It is well written, captivating, the story flows beautifully – and the imagery and symbolism are beautiful also. The fight between good and evil is intense – as is the battle to have faith in oneself and to follow your dreams – and to have faith in others, that there is good deep inside. My daughter has taken to referring to the Spiritz and we use it as a discussion tool for reviewing actions and emotions – even sharing it with my younger children, they enjoy the idea of 'good/ spiritz protecting you. Honestly one of the best books I have read lately – refreshingly original and beautifully told. One of our favs."
Amazon customer
★★★★★ This book is AMAZING!!
"This book is great for anyone who struggles with their emotions. It teaches the power of your thoughts and emotions. It helps to show ones personal strengths, friendship building, self awareness, learning and living your legacy… Oh I could really go on and on. This book could easily have been a series and if it were a movie I would totally go see it! The writing is so vivid though that along with the illustrations I can see everything as Asha went along the journey!"
Amazon customer
★★★★★ Draws you in deeply and fills you up with a calm power! A great coming of age book too
"This is the most adorable story of enlightenment. I laughed, I cried, I learned. My daughter who is 8 years old was really able to get an understanding of Spiritz and self-empowerment via Asha. The way we manifest is described in a creative way for any age to understand and learn from this little girls journey as fictional as it may be..or is it? I resonated with so many things in my real life through this story, it is filled with encouragement & self-realization."
Amazon customer
★★★★★ A MUST Read!