Short version
My name is Cheyan Lefebvre.
I am a graphic designer and illustrator.
I am the author behind the Tall N Curly comics and the children's book Asha and the Spiritz.
I was bullied from age 5 to 16. Then I had to endure another form of bullying from age 17 to 27. More generally, I've had problems in my relationships (friends, family, love) for most of my life, essentially because I was bullied at school as a child and as a teenager.
I have spent my life trying to recover from those years. Sometimes I thought I had, only to lose my precious balance again and again.
I just spent three of the most difficult years of my life.
After finding myself alone for the first time since the age of 16, when I met the man I thought I would spend the rest of my life with, I had to sit down and talk with someone: that part of myself I had always tried to escape from.
From my conversations with her was born Zabeth, my life as a vampire.
As I did myself, children who are bullied often do everything in their power to hide it from their family. And they're usually very good at it.
Today, I hope that by addressing children who are being bullied at school, but parents who may be missing out on the drama their daughter or son is going through, Zabeth will help at least one child out there.
And if she helps one and only one, it will have been worth it.
Very long version
My name is Cheyan Lefebvre. It is not my real name.
I have a degree in graphic design, which has never been of any interest to me since all I care about is writing, drawing, and saving animals.
I am the author of the Tall N Curly comics and the children's book Asha and the Spiritz. And of two thousand other projects that never saw the light of day because I never had enough self-confidence to fight for them.
I have never used my real name for anything.
I've used different pen names all my life for all of my creations. To make sure that no one could link them to me, or to one another. I needed that distance to protect myself against potential criticisms or judgments, to which I am so overly sensitive. I also needed, I must say, to put some distance between the child who responded to that name and me.
I have hidden behind my aliases as I've hidden all my life. Behind a mask, behind my boyfriend, behind my screen, behind my walls.
Tall N Curly Comics
Some people know me from my webcomic, Tall N Curly.
I've been creating these comics since 2012. Thanks to them, I have had the opportunity to communicate with thousands of people, mostly girls and women who, like me, just needed a little inspiration and humor to feel better about themselves. Freer. In that way, my blog made me feel useful for the very first time in my life.
The messages and comments I've received over the past eight years have made me feel connected with people who resemble me, who understand me, and who I understand too. As someone who has always felt like I'm from another planet and generally finds little to no echo to myself in this world, I have found some through my website.
I sincerely thank all those of you who've taken the time to send me those loving messages over the years. You don't know it, but you literally changed my life.
With Tall N Curly, I was able to create a character that was very much like the person I always wanted to be. A strong woman. One who doesn't let herself be impressed or belittled by anyone. One who can laugh at everything and especially at herself. A quick-witted woman who'll just tell anyone who needs it where to get off. She was the little messenger I needed to transcend some of my fears and thus share a message of self-confidence, positivity and hope.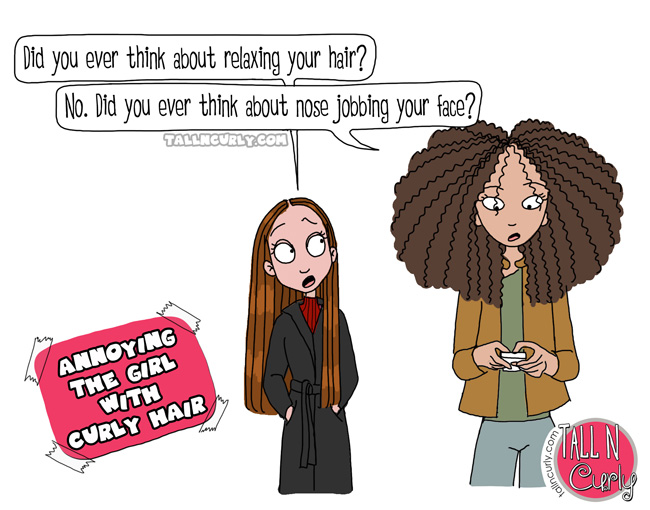 That woman does exist. She even manifested herself often in real life. What is not true is that she never did so with the confidence and detachment of my character. All my life, every time I had to stand up for myself, I did so with terror and apprehension.
Most people wouldn't suspect it because I don't look like someone who is afraid. I am tall, I stand up straight, I have broad shoulders, I look you straight in the eye without ever looking away, I have a rather deep voice, I laugh a lot, and I am overall calm and composed. Depending on the day, and from what I hear, I give an impression of strength, of gentleness, or of someone who is ice cold and cannot be affected by anything or anyone. But it's a lie. And it has always been, as far as I can recall. I've always needed to wear a mask to protect myself.
All my life, I have been part of a category of people who, to survive, must constantly pretend. Pretend to be at ease; pretend to be self-confident; pretend not to be affected by other people's opinion; pretend to be happy; pretend to be serene; pretend to be detached. But beneath the surface of my hardened steel armor lies a volcano, where my fear and anger have long reigned supreme.
Then 2020 came and turned my entire universe upside down.
The Storm
At the same time the coronavirus storm hit, another hurricane raged over me.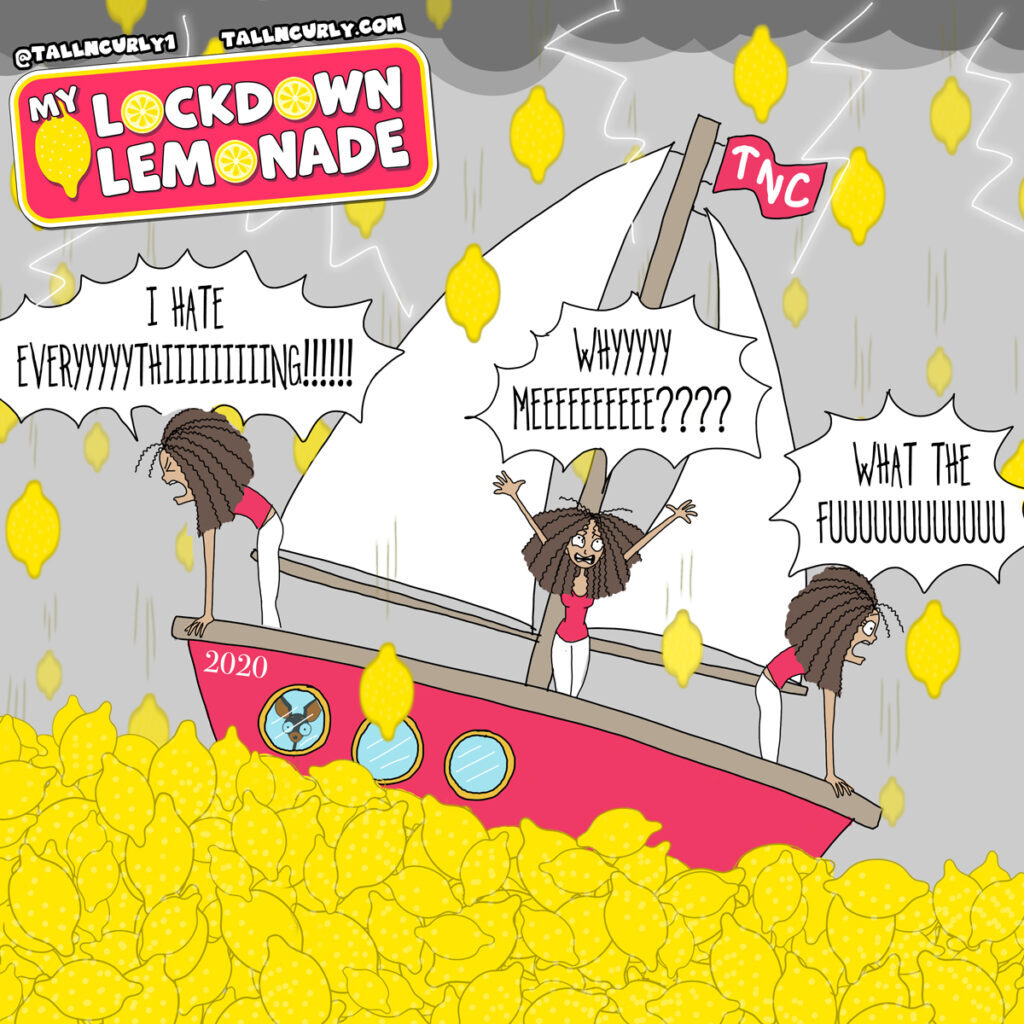 After it lifted my houses, uprooted my trees, and pushed my rivers out of their banks, it left only one thing behind: me. Me naked. Me all alone. Me with nothing. Without a home, without a mask, with nowhere to hide. I who, for the very first time, had to face me without any filter or protection.
I have spent my life questioning and working on myself. I ignored nothing of who or what I was. Or at least did I thought so. What 2020 revealed was that, despite all the struggles I had fought, in my life and against myself, I had managed to keep a whole part of me in the shadows—the one I would never have to sit alone with in a room.
Well, that part of me and I have been sitting face to face since January 2020. And God knows we've had a lot to talk about.
Zabeth, my life as a vampire is the first fruit born from our long conversations.
The bullying
I was a victim of bullying from age 5 to age 16. I went to an international private school where school starts at 5 years old, and from where you come out at 18. Therefore, I grew up pretty much surrounded by the same children, the same bullies.
No blows. It was much more subtle. I experienced insults, rejection, marginalization, mockery, and contempt every single day for eleven years. Sometimes even the teachers would join in. Sometimes a teacher would start it. Had I been "normal," I would have already suffered from it very severely. But I'm a highly sensitive person (HSP), so it became a nightmare.
Why was I being teased? Among other things because I was tall, had curly hair, was too skinny, was of mixed race, but also because I was introverted, shy, silent, precocious, always keeping to myself, and disconnected from everything and everyone. Basically, because I was "weird" in every way.
I never told my parents what I was going through during the eleven years I was there. Life at home wasn't easy either. Therefore I never had anyone to stand up for me, not against the kids, not against the teachers, and later on, not against myself. The only person I never had to tell anything to and who figured everything out without saying anything herself was my maternal grandmother. She did everything she could to help me, but could only do so much.
The escape
To me, "people" were enemies for a long time. Potential threats.
The more I grew up, the more terrified I became. The more I withdrew into myself, the more people rejected me.
When I was 16, my mind filled with dark thoughts, I fled my country—a survival instinct.
I had the feeling that I would never survive this loneliness, sadness, and anger. Leaving as far away as possible seemed the only solution. Running away has always been my favorite emergency exit. As if it contains the answers to all problems.
At the age of 17, fragile, broken, and angry in that foreign country, I met the man — then boy — I have always seen as the man of my life.
I clung to him like a lifebuoy. It is thanks to him that I started to believe I could make it. He is the one who kept my head above water for a very long time.
With his family, I got a glimpse of the family that I never had and needed so much.
Unfortunately, things didn't happen the way I hoped they would.
Merry-go-round
When a child is being bullied by other children, it's not easy. It's horrible. But despite the insults and constant rejection, deep down inside, at least deep inside my child self, a little voice tells us that those who hurt us are just children, like us, and that one day we will cope. One day, we will prove them wrong in every way.
But when, after eleven years of being rejected by children, I was rejected by teenagers, young adults, and adults, it etched in my mind that I was, in fact, the problem. I was officially unlovable. And a life spent believing that no one can love you makes it very hard to blossom.
You become more and more fearful. You don't believe in the affection of those who give you affection. You shut yourself off, and while you become weirder and weirder in the eyes of others, people who don't know you and only see the surface end up rejecting you, too.
Convinced of my unlovableness, I went everywhere on the defensive, stressed out, withdrawn, feeling miserable, and thus contributed to maintaining the downward spiral.
As a result, I was terrified, sad and angry for most of my life.
Some light
Despite everything, I have always tried to turn my life experiences into something positive. I think I can safely say that I have always succeeded. It's how I am, and it may be the only thing I'm really proud of about myself.
Having been rejected for most of my life has made me a very empathetic person, perhaps too much so. I have always tried to help the weakest, the broken, the ones who have no one or whom no one cares for, both humans and animals.
Most of the people who have suffered in their lives that I meet are somehow attracted to me and talk to me. They confide their pain to me. I think they know that the person in front of them is a mirror that reflects and understands them.
My boyfriend was always amazed when friends of his, about whom he knew almost nothing, confided in me about their worst memories barely twenty minutes after meeting me. To me, it felt normal. Logical. Water is drawn to water. Love to love. Pain to pain.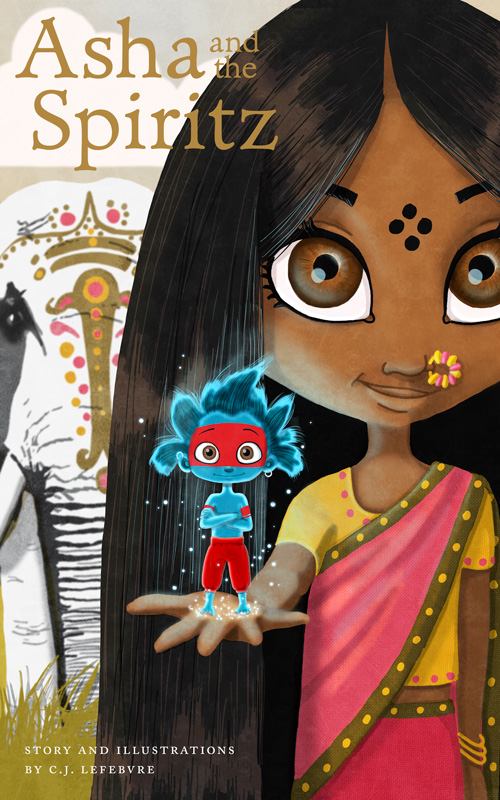 In 2015, when I wrote my first book Asha and the Spiritz, I initially wanted to give children a little toolbox. Children like the one I used to be, who sometimes lack light on their way and risk getting caught up in the dark side of the force. The story of Asha, my other little messenger, has become a story for everyone, it seems. At least that's what I understand from the reviews and the messages I've received.
In all my creations, I talk about, to and for those who are forgotten, just as I would have liked that someone would have spoken about, to and for me.
Today, with Zabeth, I want to talk to children going through what I have been through, to former bullied children, and to parents who may not be aware of the hell their child is living.
Why only now?
The fall
Beginning of 2020.
After two years of facing relationship issues, my high school sweetheart left on the very day the lockdown was announced and never returned.
Overnight, I found myself confined alone, in a country that is still not mine and in a city where I have no family, not even his anymore.
I think of myself as someone who has fallen and gotten back up all her life. But nothing has ever put me down like this ordeal did. And nothing has ever forced me to put everything that was in me of faith and resilience into getting back on my feet.
My boyfriend was an exceptional individual. He still is. It wasn't always easy for him. I could be a real nightmare to deal with at times, completely overwhelmed by my emotions and fears. On the other hand, he spent way too much time looking down on me and making judgments about who I am, which only made everything worse.
Despite everything, I only keep the good that has bounded us for so many years, and I wish him all the happiness in the world. Especially the happiness that was out of his reach because of my heart that was broken to pieces and that I had never managed to put back together.
That is why, after he left, I had no choice but to face the woman in the mirror. The one I had almost managed to erase from my own life by centering my whole existence around him. That man who, even though he believed it, never really understood me.
That's how I came to understand that, of all the little dramas of my life, the consequences of the bullying I had suffered were the ones who had ruined my life the most.
If it's not pulled out in time, bullying is the seed of the carnivorous plant that will devour the child who has suffered from it. And self-esteem is a fragile plant that will have a tough time coming back to life and growing straight, even with the help of a prop, if it hasn't been duly protected during its growth phase.
The climb
Fast forward to now.
A year later, also thanks to some little nuclear bombs dropped over my head by 2021, I am miraculously stronger and more serene than ever. Calmer than ever. More at peace than ever.
Anger is gone. Sadness too.
There is still some fear left, but I fight it every day.
The road was shorter than I thought it would be. I am more resilient than I thought I was. Probably because I've always been on this path to a better version of myself, without ever being able to reach it.
Today, I am finally getting there.
So just like Zabeth, I'm taking off my mask. Proud of my Ph.D. in Rejection and Bullying, acquired after a lifetime of experience, today I wish with all my heart that this long, very long journey finally serves a purpose.
Lefebvre was my late and beloved grandmother's surname. My real name is Julie, still I will keep on using Cheyan because I've been using it for so long now it's become a part of me now. And Zabeth is my new little messenger.